If you've been following the insane growth of Axie Infinity, you may have heard of a new video game incentive model called "Play-to-earn" (P2E). Like traditional video games, people are encouraged to engage with a game and its ecosystem. The difference here is that players create value for both the platform and themselves. In short, they are rewarded for their engagement with the game!
Game assets are composable, meaning the value earned as a reward can either be kept in the game's ecosystem or extracted out for use elsewhere. For example, you could collect an Axie Reptile NFT and use it to earn rewards in the game, or you could sell it on a secondary marketplace for other assets like $ETH.
TreasureDAO is taking this model one step further by building an ecosystem of games that share resources, allowing players to move assets between games seamlessly.
What is Treasure?
According to their docs, "Treasure is a decentralised NFT ecosystem on Arbitrum that is built specifically for metaverse projects" [↗].
Axie Infinity was the first web3 game to experiment with complex tokenomics at scale. Others have since followed suit, but many fail to align the motivations of developers, players and investors—all of whom profit from the game. It turns out that game economies are delicate, and it doesn't take much to break them.
TreasureDAO aims to fill a crucial spot in the web3 gaming space by providing games with the core building blocks for a successful economy.
Often described as a "decentralised Nintendo" for the metaverse, comprised of the console (core building blocks), in-house games, games from other developers and a marketplace that sits at the centre of the ecosystem where players can trade assets from each game. Every project listed on the Treasure Marketplace uses Treasure's native currency, $MAGIC, with each game inventing its own narrative around the resource.

TreasureDAO was founded in August 2021 when the creators launched a Loot derivative called Treasures. They saw Loot as a strong mechanism for cross-platform building but felt it lacked social coordination tools [↗]. With roots in DeFi, the team set out to use this mechanic to create what they refer to as "imagined financial systems" on which P2E games can be built. In September 2021, TreasureDAO launched $MAGIC alongside their flagship project Bridgeworld, a trade and commerce strategy game. Since then, they've integrated two more games—including the wildly popular Smol Brains—and are in the process of adding eight more [↗].
As the ecosystem rapidly swelled, they migrated to the Arbitrum Layer 2 (L2) scaling solution. Doing so allowed them to offer a much-improved user experience as Artbitrum inherits the mainnet's security but with lightning-fast transaction speeds and reduced gas costs.
Core Team
John Patten, Co-Founder — John has a background in economics and works by day at Osmosis, a Cosmos-based automated market maker protocol.
Gaarp (pseudonym), Co-Founder — Gaarp comes from a strategy consulting and traditional finance background. He joined John just one week after Treasure launched.
End (pseudonym), Product Lead — End was recruited through the community to head up Product. Before joining Treasure, he was completing his PhD in Organisational Psychology.
Peter (last name unknown), Economics Lead — John and Gaarp enlisted Peter to develop Treasure's overall economic system. Peter has a PhD in Economics and brings a breadth of experience across microeconomics, traditional finance and software engineering.
The Treasure Roadmap
TreasureDAO has quite a few projects planned over the coming months and years that will likely be valuable additions to their ecosystem.
Trove Marketplace
When they migrated off the mainnet, the team uncovered a need for a generalised NFT marketplace on Artbitrum. They're currently building Trove, designed as a L2 competitor to OpenSea, where users can buy and sell Arbitrum NFTs using $ETH. It's due for release in Q2 2022 [↗].
Bridgeworld
Another exciting item on the roadmap is the plan to vastly improve Bridgeworld's graphics. They just hired Tei Kim as Creative Director—previously the Head of Graphics at Netflix—to work on a new version of the game [↗]. There's little information about when it might be released, but good to know it's in the works.
Upcoming Game Releases
Following the success of Bridgeworld, Smol Brains and Smol Bodies, TreasureDAO has lined up eight more games to release soon. You can find a complete list of projects in the pipeline here (unofficial resource).
Life. Described as an "experiential board game", Life is said to be the first release on Treasure created by an external developer.
BattleFly. Due for release in the coming weeks. Players stake $MAGIC to battle against one another, and the winner earns a share of their opponent's staked assets.
Tales of Elleria. An online role-playing game where players can summon heroes, take on assignments and go on quests to earn rewards.
Mushrohms. The much-anticipated flagship P2E game from OlympusDAO. A soft launch is planned for April 2022, with a full launch shortly afterwards in September.
Ether Orcs. A 100% on-chain P2E game that's currently live on the mainnet. I assume they're planning a move to Arbitrum, but I see no mention of this in their docs or Discord.
Peek-A-Boo. A collection of NFTs inspired by the Doodles profile picture (PFP) project with an accompanying P2E game called "Hide-N-Seek". Game assets went on sale a few days ago (03/21/22).
Toadstoolz. An on-chain toad life simulation game with no official release date set.
Imperium. There's no information available aside from the name as it's currently in stealth mode.
Lost SamuRise. A samurai themed P2E game launching on the mainnet but with some functionality available on Arbitrum.
Realm. A decentralised world-building game. Players develop their "realm" by building structures that are NFTs they can own.
Treasure Tokenomics
Games in the Treasure ecosystem revolve around the balance between $MAGIC, Treasures and Characters. Treasures can produce new resources, but only when enough $MAGIC tokens have been staked.
To participate in a game, you must own a Character NFT native to that game. For Bridgeworld, this includes Legions, a series of PFPs that collectors can use to summon additional Characters, go on quests, craft Treasures and mine $MAGIC.
This multi-resource model is the foundation for the Treasure ecosystem.

Token Emissions
The platform seems pretty promising, but how do their tokenomics work?
Market cap: ~$162,000,000 [↗]
Fully dilated value (FDV): ~$1,127,000,000 [↗]
There's a big difference between the market cap and the FDV, meaning lots of tokens are locked up waiting to come onto the market. These figures are helpful because they give us an idea of how the market values TreasureDAO today and how much the project needs to grow in the future to justify its current price.
$MAGIC's market cap is 14% of the FDV, and tokens are released over the next 12 years; that's a 7x growth over 12 years or about 32% growth year over year.
Circulating supply: ~50,000,000 $MAGIC [↗]
Max supply: ~350,000,000 [↗]
$MAGIC has a straightforward community-oriented token distribution. The total supply is ~350,000,000 tokens, allocated like this: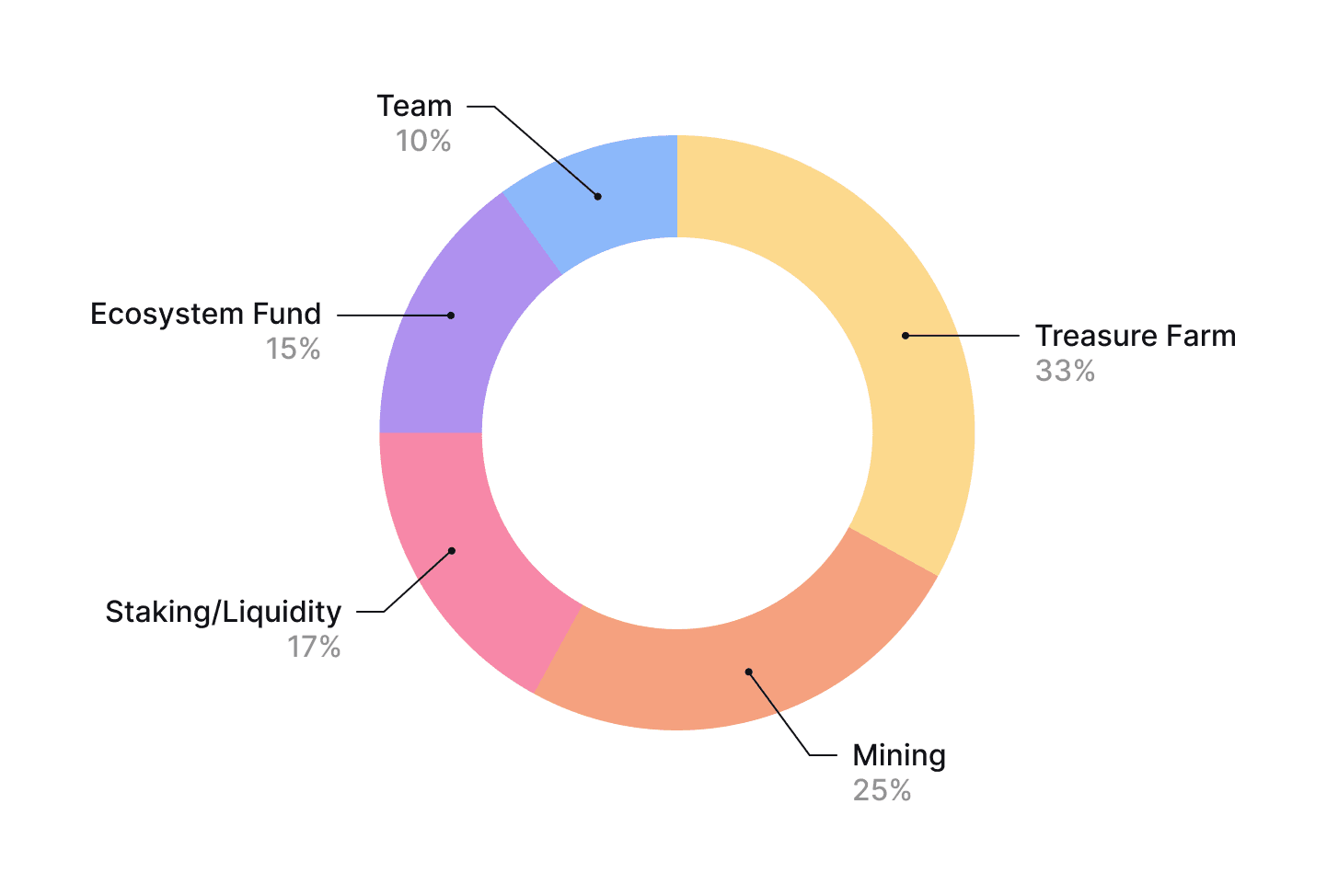 The $MAGIC token was launched via "fair launch" yield farms. Players could stake their Treasures, $MAGIC and SushiSwap $MAGIC-$WETH liquidity provider (LP) tokens for a static daily return of $MAGIC.
This initial farming period took place over three weeks, during which ⅓ of $MAGIC's total supply was distributed (~115,900,000 $MAGIC).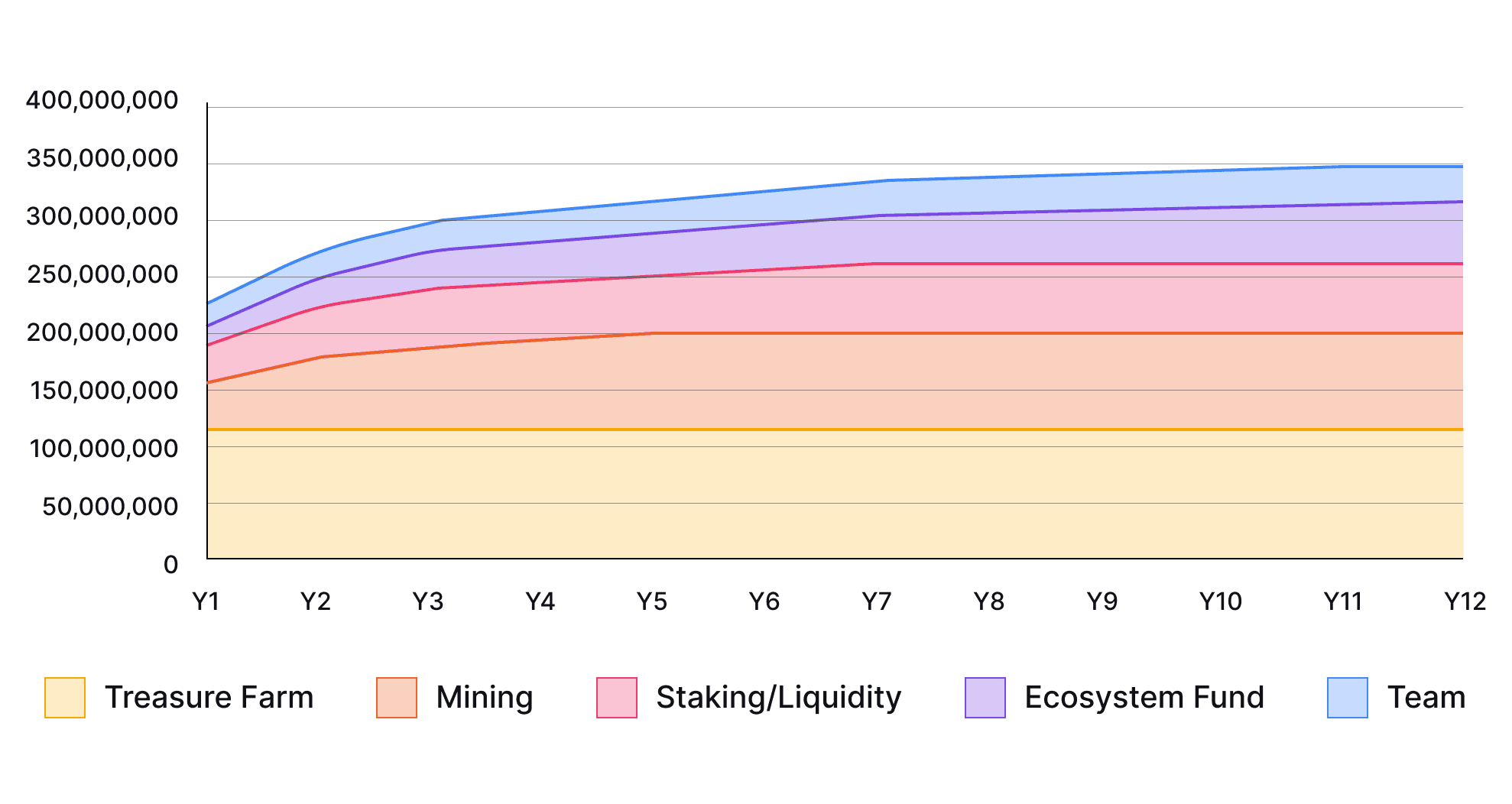 Tokens emit rapidly over the next year as the team opted for high inflation early on to bootstrap the community and $MAGIC's liquidity. Then they'll begin to slow down in Y2 and then slow down even more in Y3.
Mining emissions, comprising 25% of the total supply (~86,900,000 $MAGIC), mimic Bitcoin's halving, but this event happens every year instead of every four years.
Token Utility
But what can you do with $MAGIC and Treasure NFTs besides holding them and speculating on the value? Well, the entire Treasure ecosystem is designed to incentivise people to keep their assets staked. Let's take Bridgeworld as an example.
Anyone who holds $MAGIC can earn emissions by staking their tokens in Bridgeworld's Atlas Mine. The catch is that you have to time lock them. Lock periods range from two weeks to twelve months, and each period offers a different boost percentage.
The longer you choose to lock up funds, the more you're rewarded.

As an example, you could stake 100 $MAGIC for two weeks, and the mine will treat it as though you staked 110 $MAGIC (10% boost). Whereas if you stake the same amount for twelve months, the mine will treat it as 500 $MAGIC (400% boost).
These boost percentages can be increased even further by staking NFTs alongside $MAGIC. You can stake up to three Legions and twenty Treasures. Both come in various types and with different boost rates (ranging from 0.75% to 600%).
What's nice is that there's no lockup period for NFTs, meaning you can stake and unstake them whenever you want. You can also claim rewards from the mine at any time.
Another interesting mechanic of the Atlas Mine is that emissions paid out to stakers rise as the percentage of circulating $MAGIC locked increases. So the more $MAGIC staked, the higher the emissions are for everyone.

It's also worth mentioning that stakers earn governance rights. Governance tokens derived from the mine ($gMAGIC) are weighted based on timelock (i.e. the longer the lock, the higher the weight) [↗].
These incentives have led to an impressive 73.42% of circulating $MAGIC locked in the mine at the time of writing (03/31/22). TreasureDAO designed Bridgeworld in this way to reduce the volatility associated with typical P2E economies, where users jump from protocol to protocol in search of the best yield farming opportunities.
Every Treasure game includes similar staking incentives. By attaching NFTs to productive assets like LP positions, protocols on Treasure gamify and incentivise long-term LP holding.
Another cool example is the game Life which features NFTs that age, fall in love and die. Players must stake $MAGIC to keep their NFTs alive. If the tokens are removed, the character dies within 48 hours [↗].
Treasure Marketplace
The Treasure Marketplace is the primary source of revenue for the DAO. It takes a 5% royalty fee (2.5% for TreasureDAO and 2.5% for the project creator). This is similar to OpenSea, which takes a 2.5% fee and allows creators to set a 2.5% - 10% royalty.
Average daily volume (since launch): ~$1,760,000/day [↗]
Monthly volume (02/10/22 - 03/10/22): ~$62,900,000/month [↗]
As it stands, roughly 140 days since launch, the Treasure Marketplace has achieved an average daily volume of ~$1,760,000/day. Looking at the 30-day volume between 02/10/22 and 03/10/22 (~$62,900,000), we see that even though Treasure lags significantly behind OpenSea and LooksRare, it's done roughly the same volume as Axie's platform, $RONIN (~$62,300,000) in this period [↗].
Soon after the migration to Arbitrum was complete, the success of the Treasure Marketplace drew an investment round of $3,000,000 led by 1kx. It included backing from Blackpool, NeonDAO and even Axie Infinity's Co-Founder, Jiho [↗].
Investing in Treasure
There are a few ways you could get exposure to TreasureDAO beyond just buying $MAGIC or Treasure NFTs.
If you want to invest in some way, you'll need to bridge funds across to Arbitrum and then purchase $MAGIC on SushiSwap. You might have to import the token address which is 0x539bdE0d7Dbd336b79148AA742883198BBF60342.
Once you have the token, you have a few options. The best one for you will depend on how much you want to spend.
There's a low-cost route of entry into Bridgeworld where you can summon a "Recruit" for 10 $MAGIC (~$32) and then send it on a basic quest to earn materials (NFTs) that you can sell. Working your way up to a Legion from here will take a while as these quests last for 24 hours, and the materials gained aren't worth much.
You could do this for a few days until you've earned enough $MAGIC to buy an entry-level character NFT from another Treasure game. There are currently some good deals on BattleFly Cocoons and Peek-A-Boo Busters for around ~60 $MAGIC (~$190).
For those with more to spend, it might be worth joining a Harvester when they go live in Bridgeworld (due for release in the next few weeks). Harvesters are another way for players to stake $MAGIC and NFTs to earn rewards. To get the most emissions from a Harvester, players must stake a total of 700 Harvester Parts. This means you'll need to find a guild or sub-DAO to join if you want to participate. The best place to start is the "#guild-recruitment" channel in the Discord.
Another option is to keep an eye on the "#announcements" channel for upcoming game releases. When a new game launches Character NFTs are usually dropped for free. However, these drops tend to be pretty hyped so demand can be high. Failing this, you could buy one on the secondary market shortly after the drop.
Finally, if you just want exposure to TreasureDAO without participating in one of their games, you could simply buy a few Legion NFTs and stake them alongside some $MAGIC in the Atlas Mine for a steady stream of emission rewards. If you plan to take this route, I recommend checking out the mining power modifiers for each type of Legion (page 19 in the Bridgeworld Game Guide).
Things to Watch
If TreasureDAO can deliver on its goal of becoming a leading economic system for metaverse building, it could turn into a major platform.
One question will be whether they can maintain a steady rate of developing and onboarding new games. When a new project is launched, it stokes an impressive flywheel for their ecosystem.
As more games are released, Treasure Marketplace volume increases, generating more revenue for TreasureDAO to reinvest into new games. Because each game heavily incentivises players to stake (i.e. hold) their NFTs, this creates scarcity in the market, generating demand, driving up floor prices and increasing TreasureDAO's total fees. The best part about this flywheel is that it creates value for holders both short-term through $MAGIC rewards and long-term through a potential increase in NFT value.
Another question is whether Treasure games will remain accessible for the low-income audiences to which many P2E games are addressed. At the time of writing (03/31/22), the Legions floor is sitting at 493 $MAGIC ($1593). This will become more of an issue if floor prices continue to rise. Echoing the model pioneered by Yield Guild Games, we already see sub-DAOs forming around and fractionalising rare 1/1 Legions.
Smart contract security will be another theme to keep an eye on. Earlier this month, the Treasure marketplace was targeted by hackers who were able to purchase 100+ NFTs at zero cost. Strangely, the hackers later returned almost all of the stolen assets. The exploit has since been patched, and the team conducted several code reviews before reopening the market [↗].
On the side of more positive signals, I'll be curious to see how fast they can roll out additional rewards and staking mechanics such as Bridgeworld's Harvesters. The sooner these are implemented and earning profits for $MAGIC stakers, the sooner more people will be drawn into the ecosystem.
---
As always feedback and comments are appreciated. Feel free to reach out on Twitter or Discord!
---
Official Links
Bridgeworld